Monday~Sunday
8:00am-6:00pm
4F, Block 7 Lijincheng High Tech Garden, Longhua District,Shenzhen China
Description Key Features specification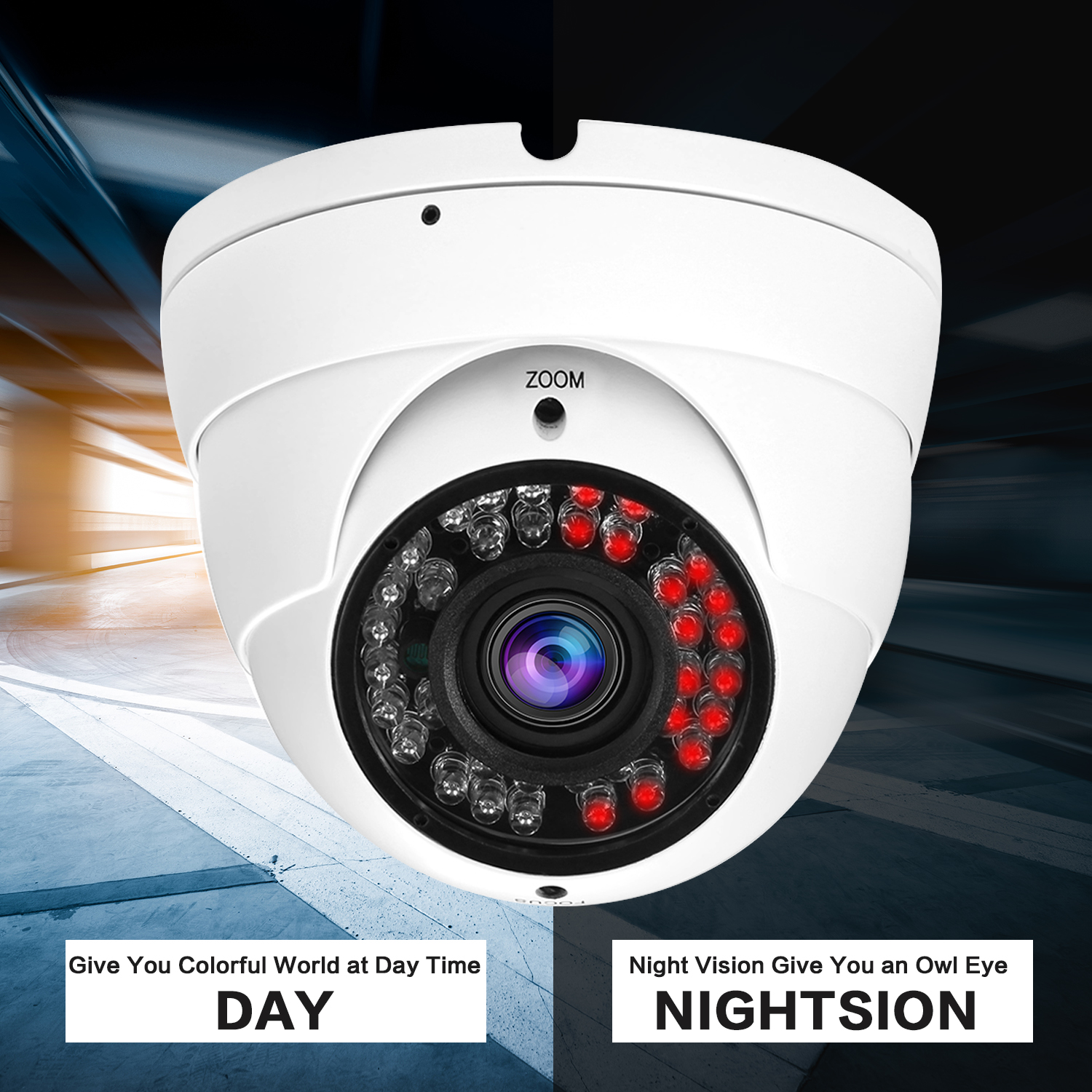 Specificaties:

MODEL:

AZ-AC3222W

Effective pixels

2MP

Ingebouwde Lens:

2.8-12mm varifocale Lens

Signaal Systeem:

PAL/NTSC

Horizontale Resolutie:

PAL: 1920X1080 P 25F/S; NTSC: 1920X1080 P 30F/S

Sync. Systeem:

Interne Sync.

Video Output:

TVI/CVI/AHD/CVBS 4in1 Schakelsignaal Uitgang/1.0Vp ~ p75Ω

S/N Ratio:

Meer dan 50dB (AGC UIT)

Witbalans:

Auto Tracking Witbalans

Sluitertijd:

1/25 ~ 1/50, 000Sec.

Verlichting voor Infrarood Switching:

3 Lux

Infrarood Golflengte:

850nm

Mimimum Verlichting:

0Lux (Infrarood Lampen inschakelen)

IR Leds:

36 pcs

IR Straling Afstand:

30 m

Weer-proof:

IP66

Werktemperatuur:

-10℃ ~ 50℃

Opslag Temperatuur:

-20℃ ~ 60℃

Voeding:

DC12V, Max Machtscomsumption Minder Dan 12 W (Wanneer de infrarood lampen inschakelen)

Gewicht:

0.9 kg
1080 P HD TVI/CVI/AHD/960 H CVBS 4 IN 1
The dome camera 1080P supports 4 different video output 1080P TVI, 1080P AHD, 1080P CVI and CVBS (960H).
Requires 1080P / 1080 Lite / 1080N TVI / AHD / CVI DVR (SDI DVR not comptiabe) (some 720P DVR not compatiable)
Need coaxiable BNC cable and power adapter but not included.
2.8-12mm Varifocale lens, Full Metal Case
With 36 pcs IR infrared LEDs, it has 98 feet IR range, take clear photo during
Both day and night time. IP66 weather rated housing provides protection from elements including dust and sand,
As well as harsh weather conditions, such as rain and snow.
Camera uses high quality metal materials
3-Axis camera stand, cable through bracket, IP66 weather-resistant aluminum housing cameras for hassle-free use in rainy or snowy days.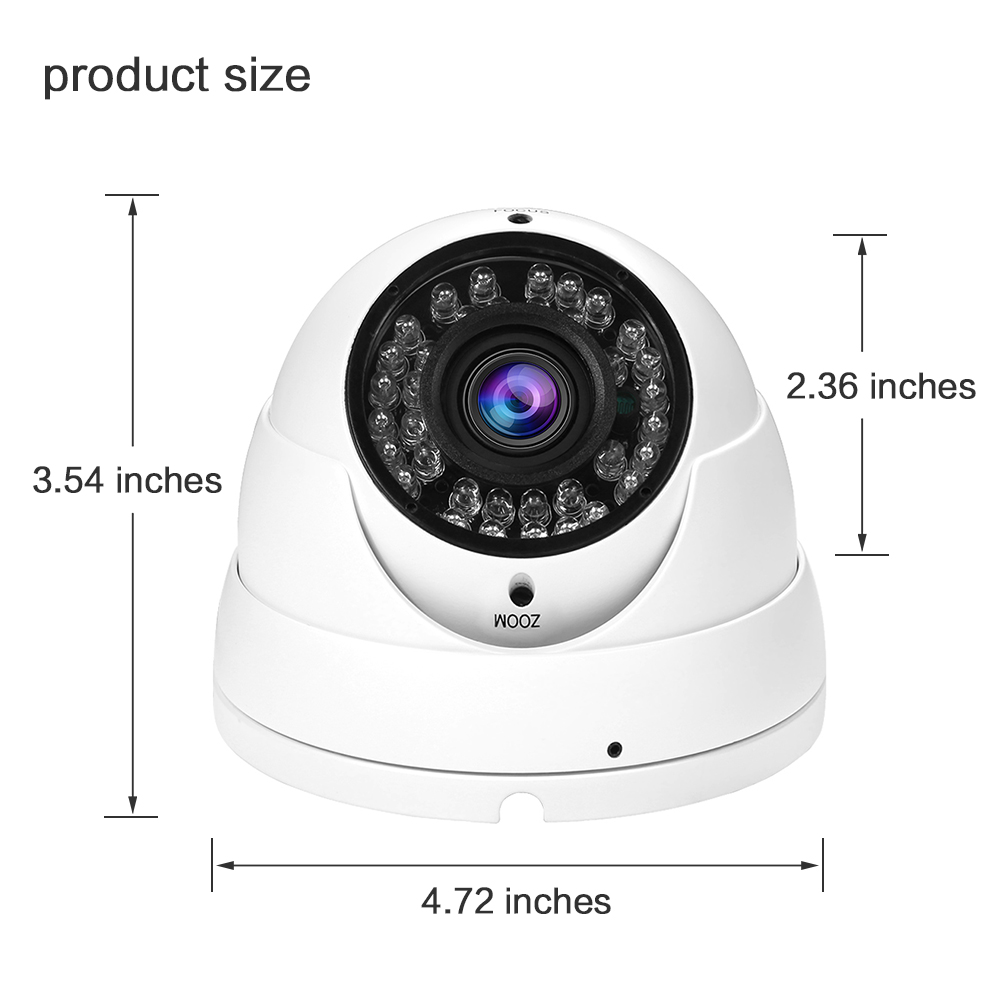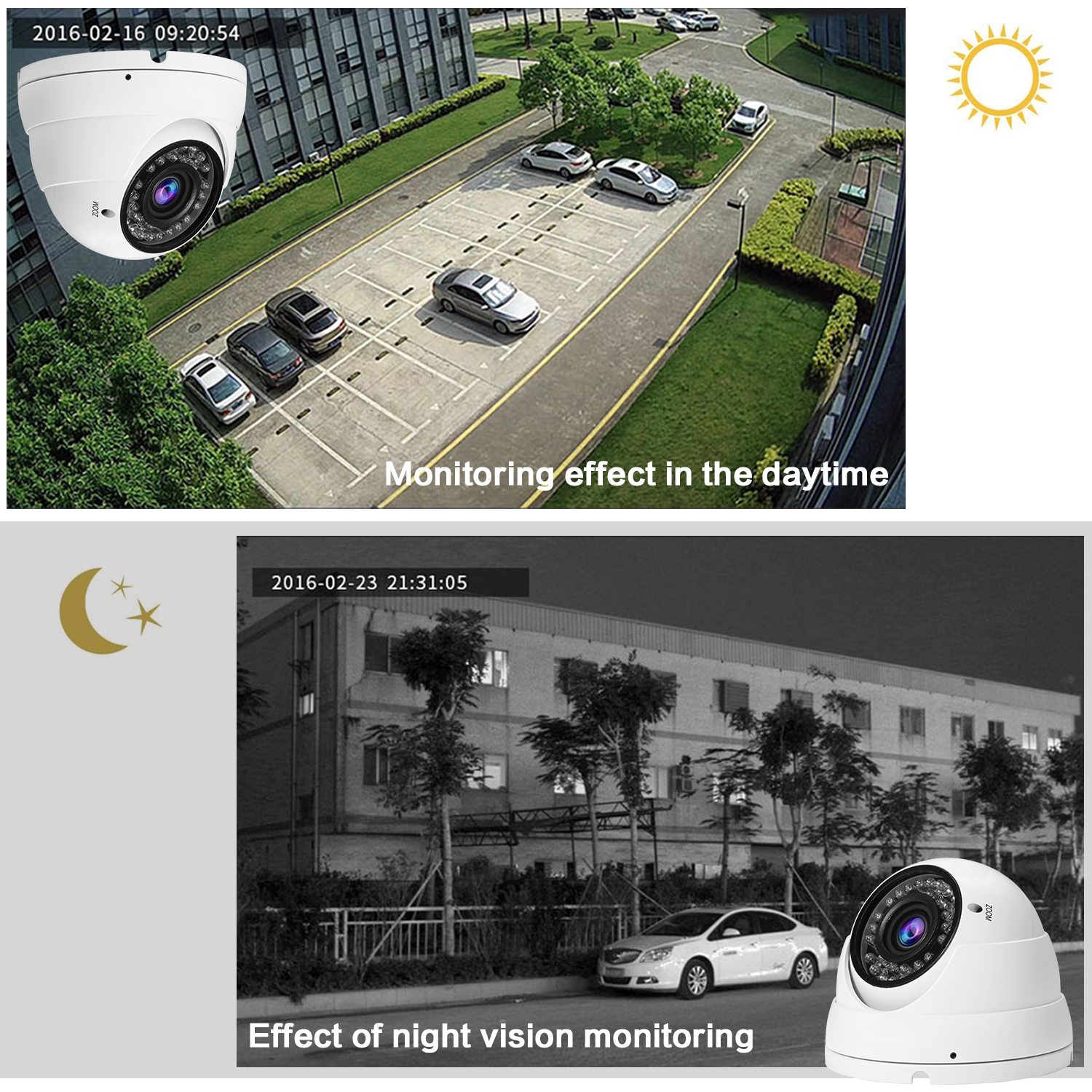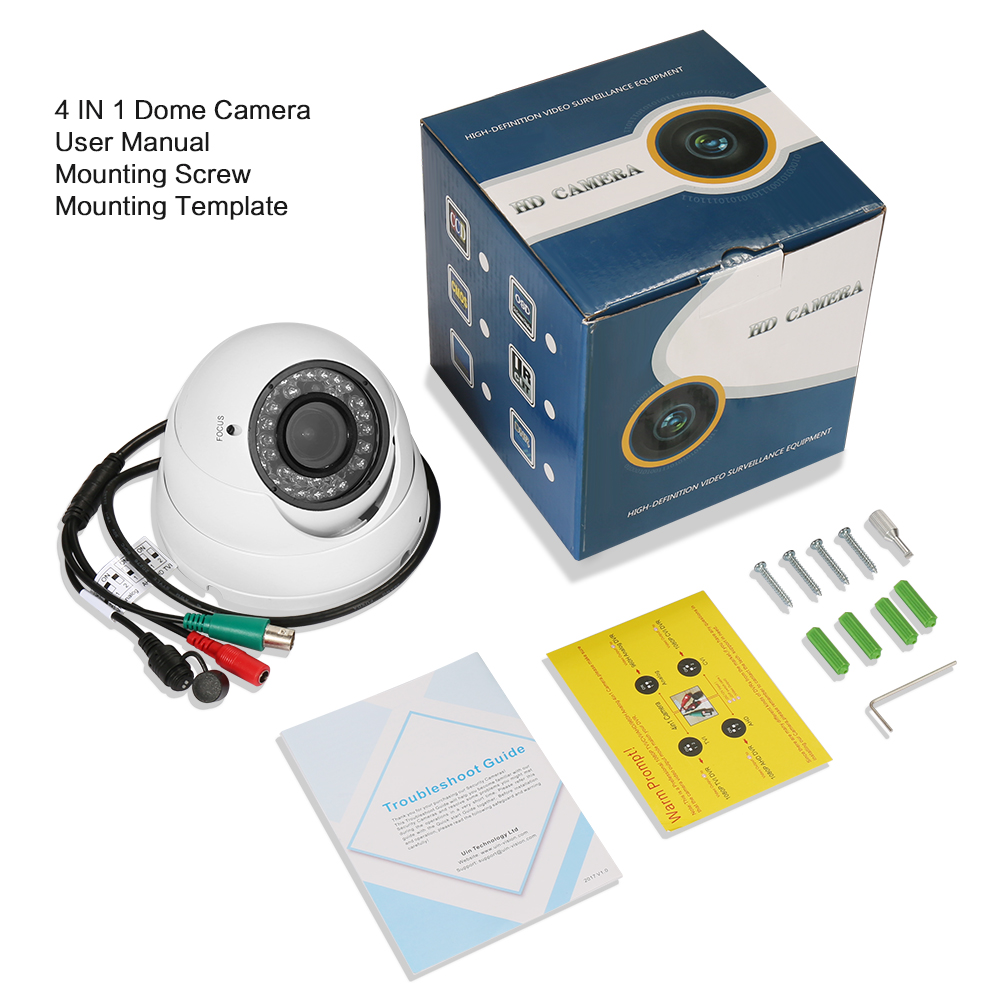 Key Features and Capabilities:
1. This camera delivers 2.0 Megapixel resolution (1920 x 1080), providing the level of detail needed for facial recognition and license plate identification. Cover more area and see more detail.
2. 4-IN-ONE HD-TVI, AHD, HD-CVI, CVBS Selectable Output (LEFT:CVBS, RIGHT:TVI, DOWN:CVI, UP:HD-CVI); Default 1080P TVI video format.
3. 2.8-12 mm wide angle 114°- 28° FOV lens
4. 100' smart IR range
5. IP66, operating temperature of 14°F ~ 122°F
6. Power supply, coaxial video cable and DVR are NOT INCLUDED but REQUIRED.
7. 1080P HD modes(TVI, AHD, CVI) do not compatible with 720P or 960P DVR. Do not compatible with SDI DVR.
8. At least DC 12V 1A power adapter is required. If there is no video or IR leds is not working at night, please use DC 12V 2A( or higher) power adapter. It depends on the power cable length and quality.
9. Any problem please feel free to contact our support team.


Bullet Points:
【High Resolution】 : Effective pixels:1920*1080
【4-in-1】 : This CCTV camera supports 4 MODE for video output: 1080P AHD, 1080P CVI, 1080P TVI and CVBS
【IR Night Vision】 : 36 pcs powerful IR-LEDs for night vision up to 100ft
【Vandal metal housing】 : with strong metal housing, waterproof level to IP66
【Very important】:This 4-in-1 security camera requires an 1080P DVR (Purchased separately) for recording video. Do not work with 720P DVR. You could switch the video mode according to the DVR that you use. If you met any problem, please don't hesitate to contact us
Specificaties:

MODEL:

AZ-AC3222W

Effective Pixels:

2MP

Ingebouwde Lens:

2.8-12mm varifocale Lens

Signaal Systeem:

PAL/NTSC

Horizontale Resolutie:

PAL: 1920X1080 P 25F/S; NTSC: 1920X1080 P 30F/S

Sync. Systeem:

Interne Sync.

Video Output:

TVI/CVI/AHD/CVBS 4in1 Schakelsignaal Uitgang/1.0Vp ~ p75Ω

S/N Ratio:

Meer dan 50dB (AGC UIT)

Witbalans:

Auto Tracking Witbalans

Sluitertijd:

1/25 ~ 1/50, 000Sec.

Verlichting voor Infrarood Switching:

3 Lux

Infrarood Golflengte:

850nm

Mimimum Verlichting:

0Lux (Infrarood Lampen inschakelen)

IR Leds:

36 pcs

IR Straling Afstand:

30 m

Weer-proof:

IP66

Werktemperatuur:

-10℃ ~ 50℃

Opslag Temperatuur:

-20℃ ~ 60℃

Voeding:

DC12V, Max Machtscomsumption Minder Dan 12 W (Wanneer de infrarood lampen inschakelen)

Gewicht:

0.9 kg