Monday~Sunday
8:00am-6:00pm
4F, Block 7 Lijincheng High Tech Garden, Longhua District,Shenzhen China
Anpviz CCTV Camera 2MP 1920x1080P 4-in-1 (TVI/AHD/CVI/960H ) Outdoor Security Dome Camera, Day & Night Monitoring IP66, 3.6mm Lens (Dark Gray)
$29.00
•2 MP 1080p, 50ft IR, 3.6 mm lens 75° FOV
•use with TVI&CVI &AHD &analog DVR
•OSD Controlx – Easy control over coax cabling
•40°F ~ 140°F temperature range, IP66
•need to switch the video mode according to the DVR that you use
INQUIRY
Description
You must know before you buy:
1. Our 4-in-1 security camera requires a DVR for recording video. It supports 1080P TVI DVR,HD CVI DVR, AHD DVR, and 960H (D1.700TVL, 800TVL)DVR. It does not support NVR.
2. In TVI, CVI, AHD DVR Mode, camera resolution is 1080P. In CVBS (960H) mode, resolution is 700TVL.
3. Camera resolution is 1080P. If connect to 720P DVR or 960H DVRS, it won't work. Please make sure your DVR supports 1080P TVI/CVI/AHD signal input.
4. If you want to remote view by App, you need to use the APP of your DVR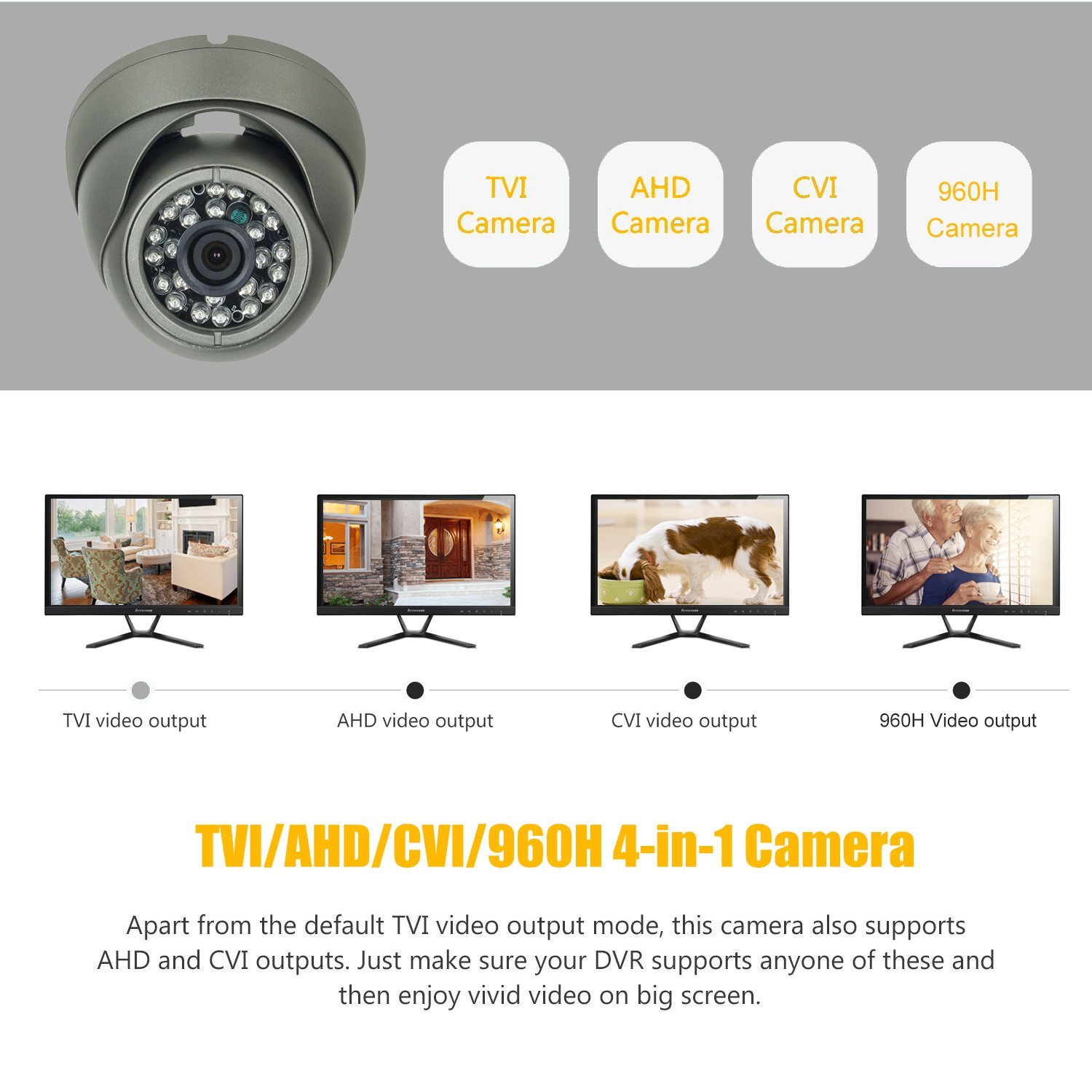 Technical Parameters:
- 1/2.9" color CMOS sensor - Resolution: 1920x1080
- 65' IR Range
- TV System: NTSC
- Video Output: HD-TVI(1080P),(AHD/TVI/CVI/CVBS)
- Day &Night: Support (ICR)
- Frame Rate: 25fps (50HZ), 30fps (60Hz)
- Min illumination: 0.1lux(LED ON) 0.01lux(0-3 lux LED)
- S/N Ratio: >52dB (AGC off)
- Electronic Shutter: Auto 1/50s (1/60s)-1/100.000s
- White Balance: Auto
- Gain Control: Auto
- Weatherproof for indoor/outdoor
- Power Supply:DC12V 1000mA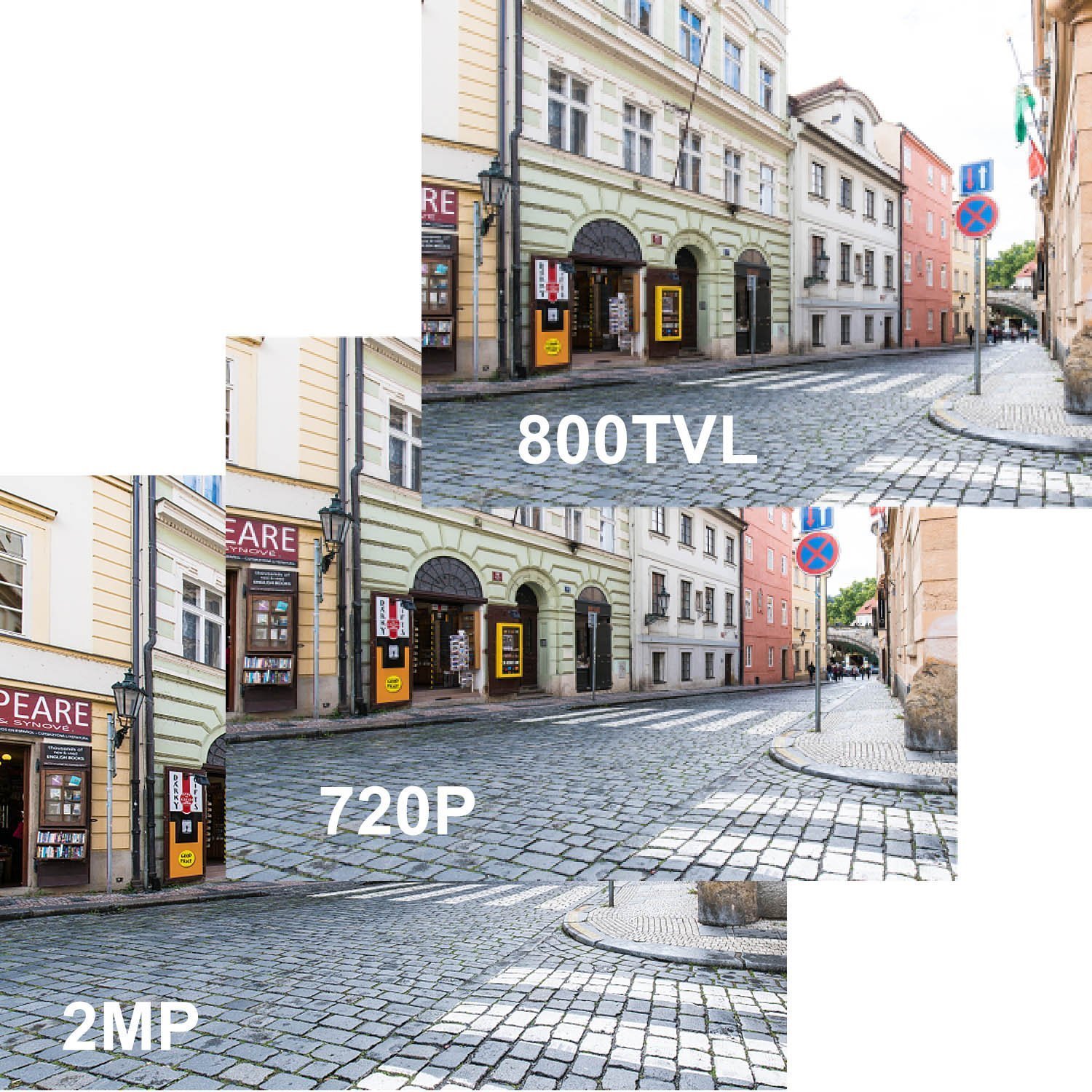 4 in 1 video model, provides flexibility for your security applications
HD-TVI/ CVI/AHD/960H technology delivers zero latency HD video over RG59 coax or any standard simulation CCTV cabling up to 1600'.
With convenient on-screen display (OSD) control of settings over coax cabling, you can eliminate the need for a separate cable.
Note: This camera require DVR for recording, not wireless and not support mobile view. Default mode is HD TVI, if you are using other type of DVR, like Simulation DVR, please switch the video type follow the user manuals.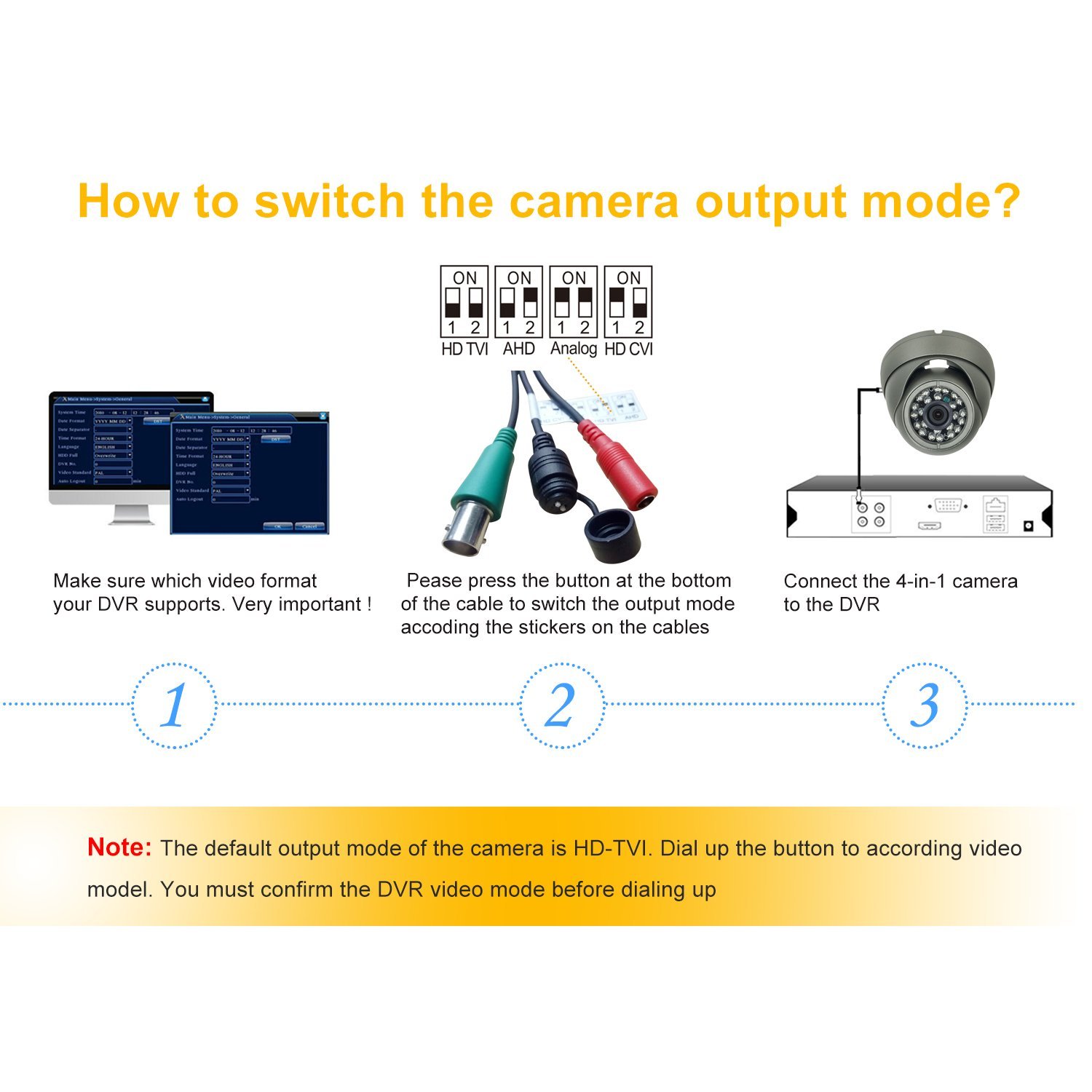 Package included:
1 x Dome camera
1 x Bag of mounting screws
1 x Installing Template
1 x Manual