Monday~Sunday
8:00am-6:00pm
4F, Block 7 Lijincheng High Tech Garden, Longhua District,Shenzhen China
Anpviz 8CH 4K PoE NVR (1080p/3MP/4MP/5MP/6MP/8MP/4K) POE Network Video Recorder IP Home Security Camera System Video Recorder,H.265+ ONVIF Compliant, HIKVISION Full Compatible IVMS4200 Backup, Supports up to 6TB HDD
Item No.: NVR108MH-P8
Professional IP recording solution for small- to mid-sized business applications
8 IP cameras
Up to 4K UHD HDMI output support
Integrated 8-port PoE switch
Up to 8 megapixel recording resolution
Embedded Linux OS

Availability: Stocks In
UD10852B_Baseline_HiLook_Quick Start Guide of Digital & Network Video Recorder_V3.5.20_20180703

Download

UD14131B_Baseline_HiLook_User Manual_Network Video Recorder_V3.4.104_20190326

Download
INQUIRY
Buy At Amazon
Buy At Amazon US
Buy At Amazon DE
Buy At Amazon GB
Buy At AliExpress
Buy At Alibaba
Description Overview Spec Related items
H.265+/H.265/H.264/H.264+ video formats
Connectable to the third-party network cameras
Up to 8 IP cameras can be connected
Recording at up to 8 MP resolution
Supports live view, storage, and playback of the connected camera at up to 8 MP resolution
HDMI and VGA independent outputs
HDMI Video output at up to 4K (3840 × 2160) resolution
1 SATA interfaces connectable for recording and backup up to 6TB
H.265+ compression effectively reduces the storage space and costs by up to 75%
1 self-adaptive 10/100/1000Mbps network interface
8 independent PoE network interfaces are provided
Centralized managementof IP cameras, including configuration, information import/export, real-time information display, two-way audio, upgrade, etc.
Connectable to smart IP cameras from Hikvision and the recording, playing back, and backing up of VCA alarms can be realized
VCA detectionalarm is supported
Instant playback for assigned channel during multi-channel display mode
Smart search ; and smart playback to improve the playback efficiency
Hik-Connect for easy network management


This convenient plug-and-play NVR supports compatible IP cameras up to 4K 8.0MP resolution.

The 8-Channel Rack-mount NVR has 1 hard drive bays that support up to 1 x 6TB hard drives and an incoming bandwidth of 160 Mbps to support up to 8 IP cameras. You can capture higher quality details with a recording resolution of up to 8.0MP.

Local video outputs include HDMI and VGA. To experience ultra-crisp, high-resolution images, this NVR displays up to 4K Ultra-High Definition (UHD).

This NVR supports H.265, H.264 and H.264+ that help reduce file size, maximize recording time, and save hard drive space.

This versatile recorder allows multiple selectable recording modes: continuous, motion detection, schedule, and event. Recording features include event search, event log, and email notification.

The integrated 8 port PoE (Power of Ethernet) switch that supports 802.3af and 802.3at reduces the need for additional network switches and offers the plug-and-play auto connect feature for compatible IP cameras.

Free Guarding Expert or GuardingVision iOS and Android mobile app delivers convenient remote viewing of live and recorded video.


Bullet Points
This powerful NVR is capable of recording 4K video in on all 8 channels. This ensures the highest level of detail in your recordings when utilized with a 4K security camera. The higher pixel count (3840 × 2160 compared to 1920 x 1080) will not only provide you with a new level clarity, it will add an increased ability to zoom in on distant objects without drastically reducing image quality. It is important to note that this 4K security NVR does not require a 4K television or monitor. It supportS 8CH 720p/1080p/3MP/4MP/5MP/6MP/8MP/4K IP video input.
This 4K NVR is able to receive H.265+ or H.265 or H.264+ video compression files. This feature can save you up to 40% more space when compared to H.264 Advanced Video Coding. So go ahead and add one of Anpviz's new line of 4K security cameras to your security system. They come equipped with H.265 compression capabilities, which allows you to receive 4x the resolution of 1080p without the large 4K file sizes.
Simply connect IP cameras to the NVRs 8 integrated power-over-ethernet (PoE) ports for a truly plug-and-play surveillance experience. Each camera only requires a single ethernet cable to connect it to the NVR thanks to PoE technology. This all-in-one cable provides both power to the camera and video transmission up to 300ft / 91m. This allows you to install your security cameras where you need them most without the need to have a power outlet nearby.
User-friendly central management software. This NVR is compatible with the user-friendly IVMS4200 Central Management Software (CMS). A free GuardingVision iOS/Android mobile app It provides convenient remote viewing of video so you can monitor your cameras from anywhere.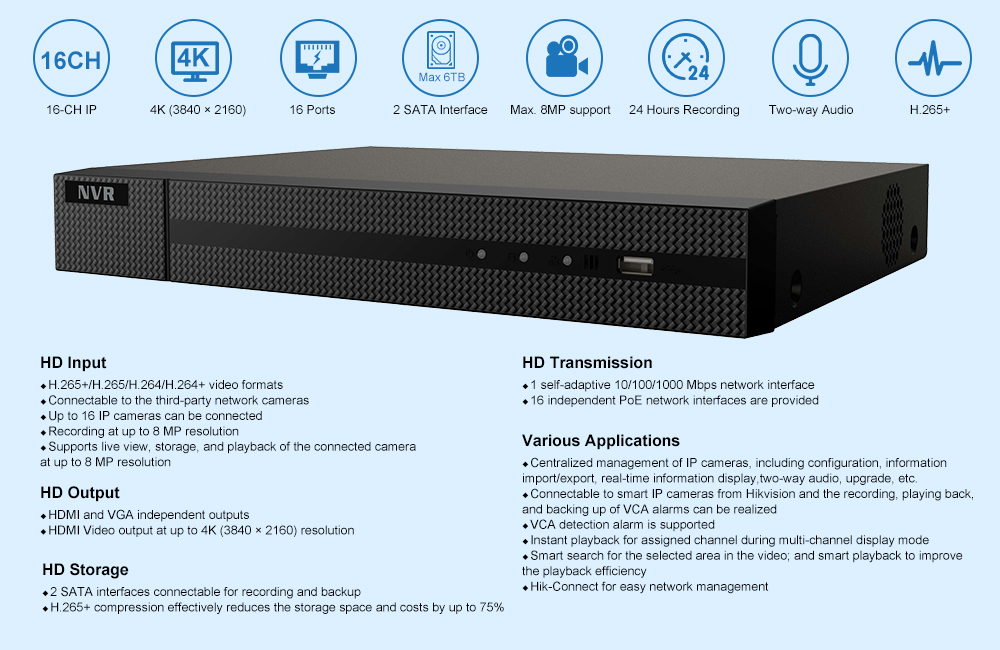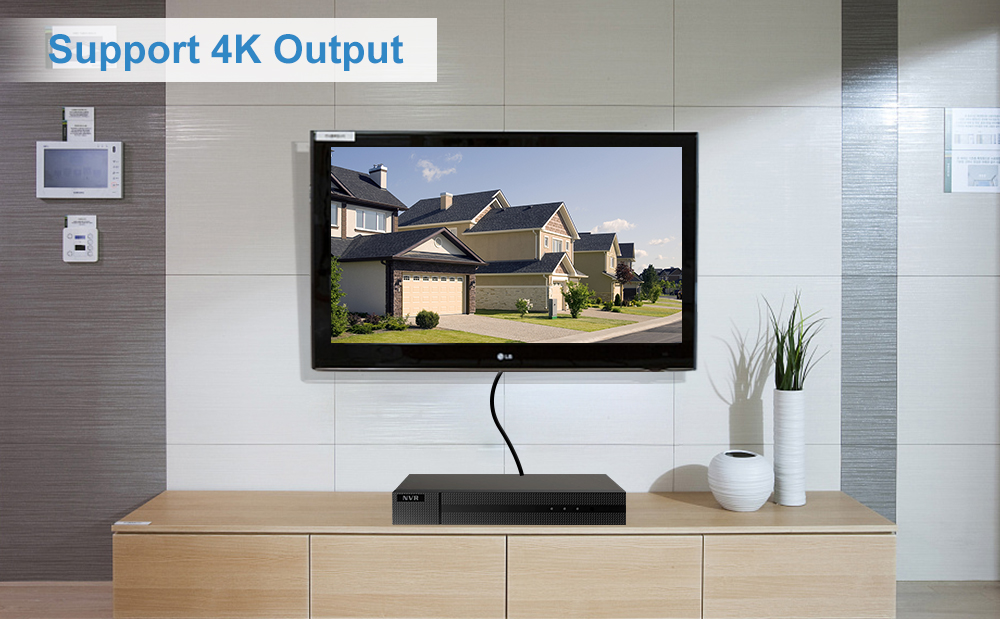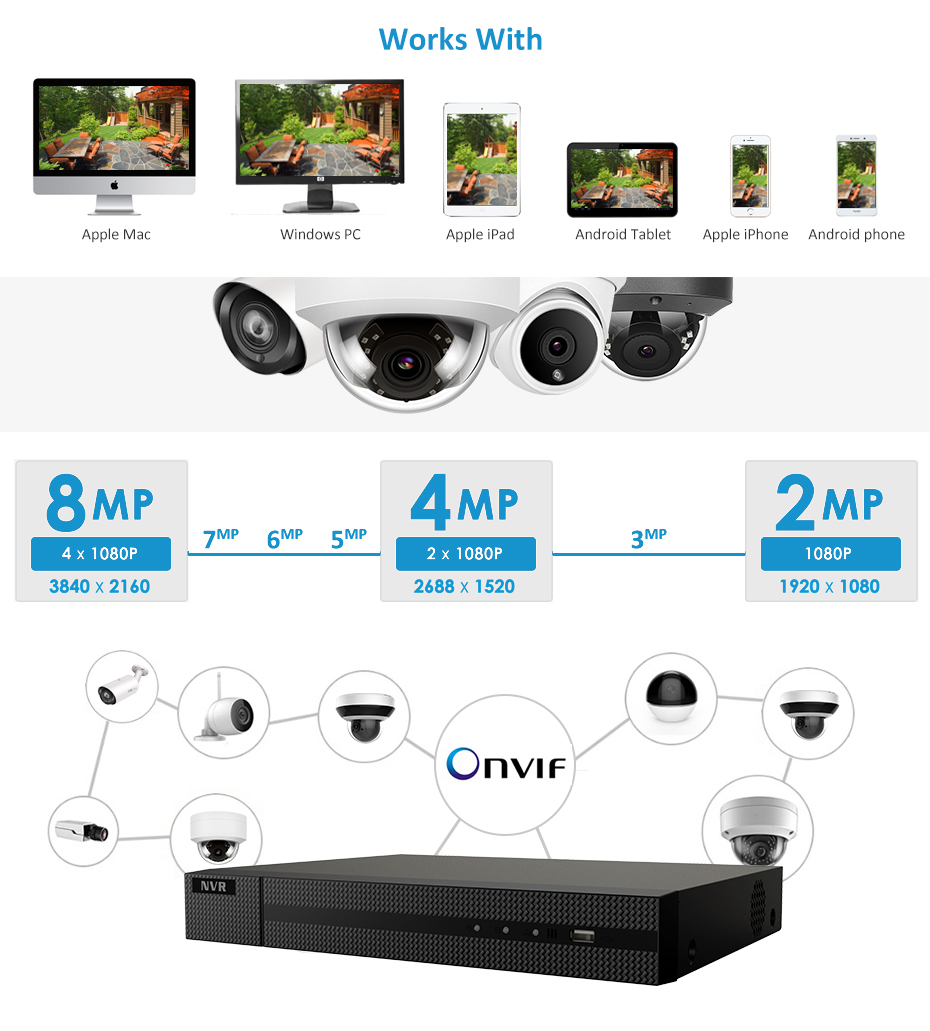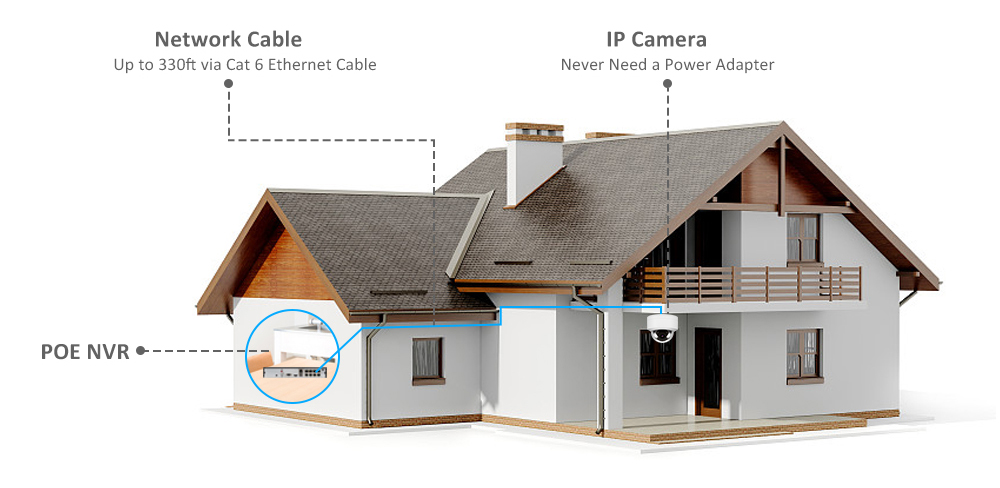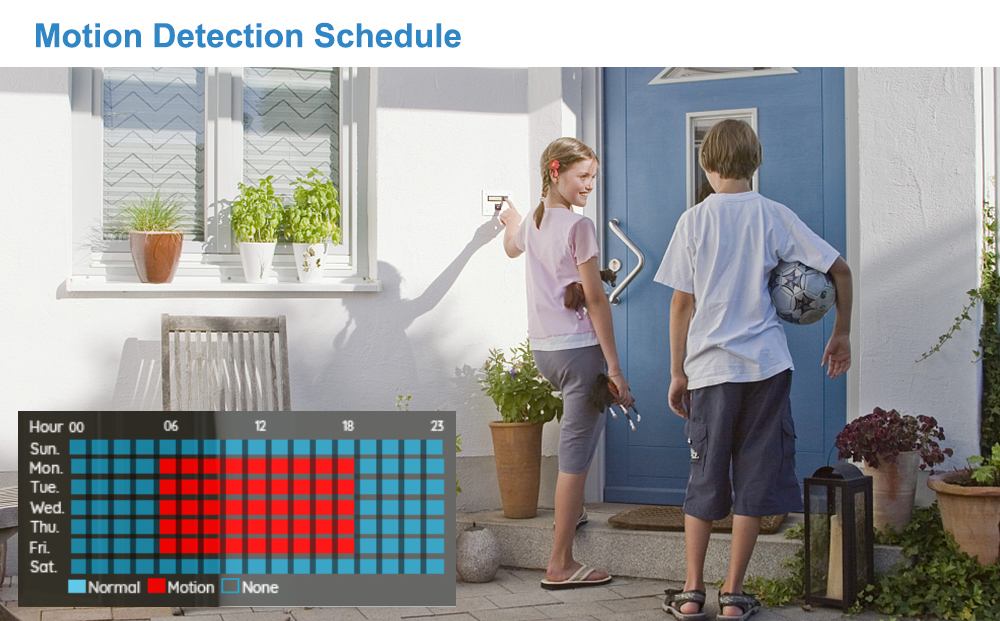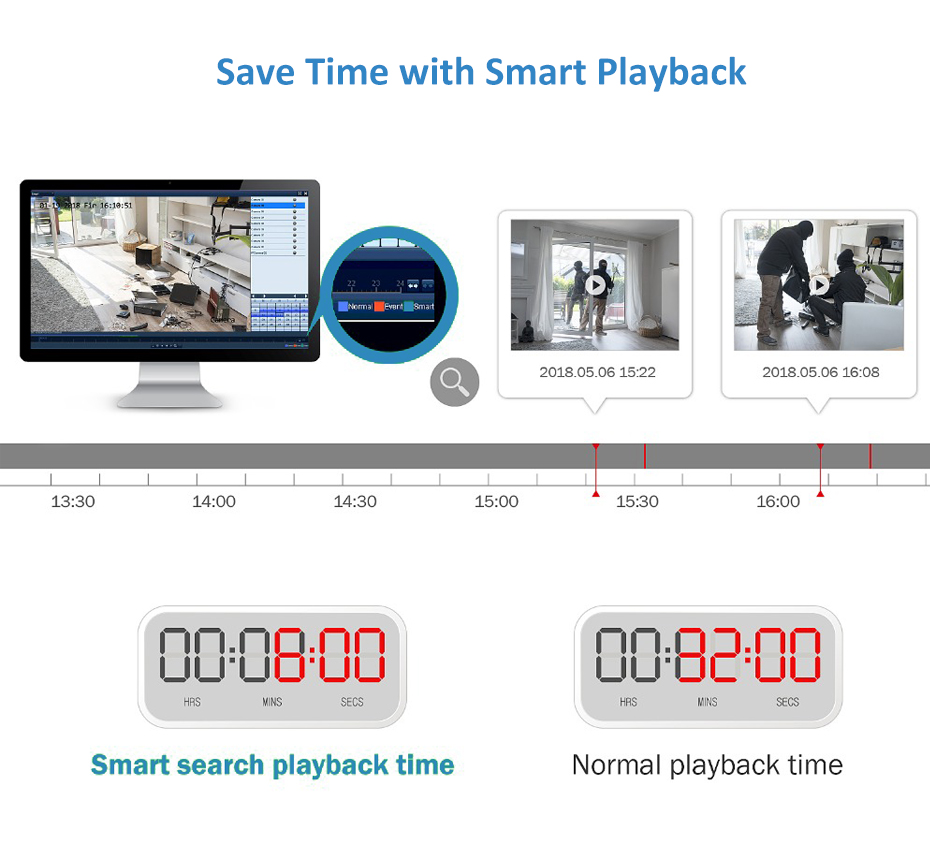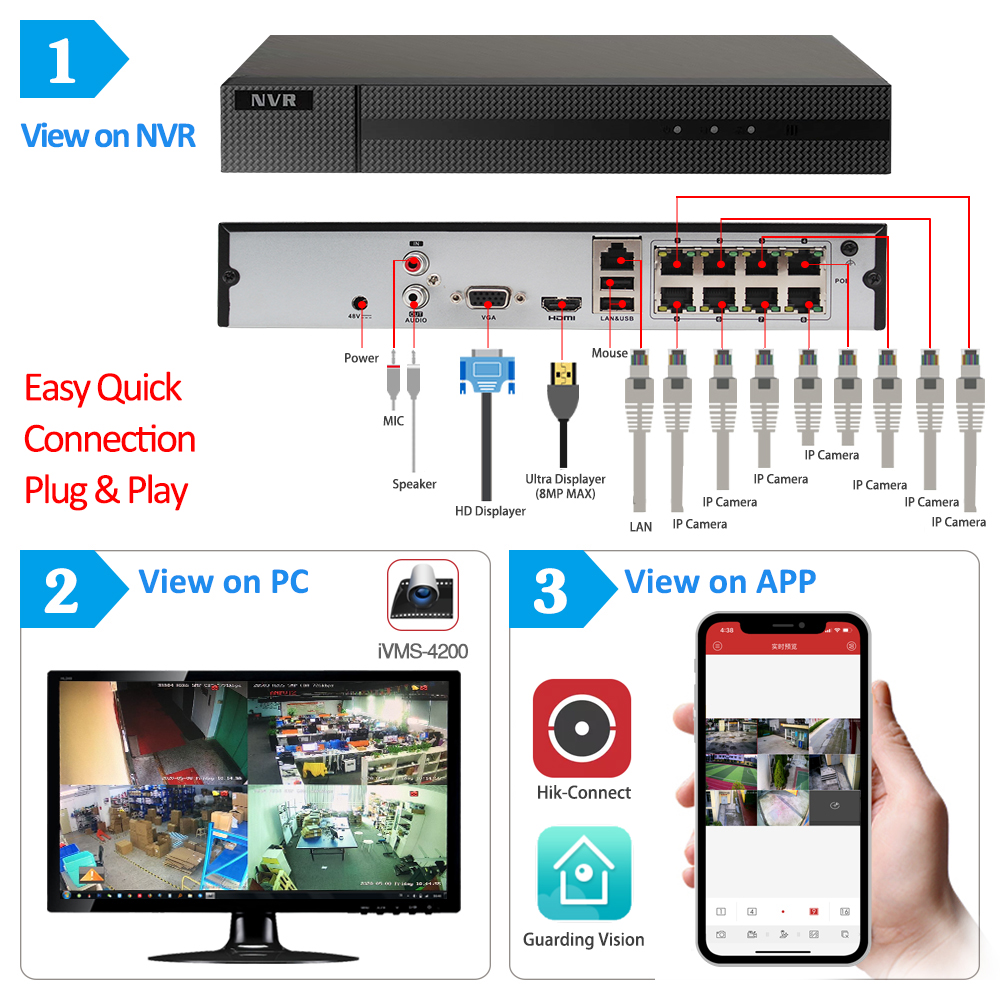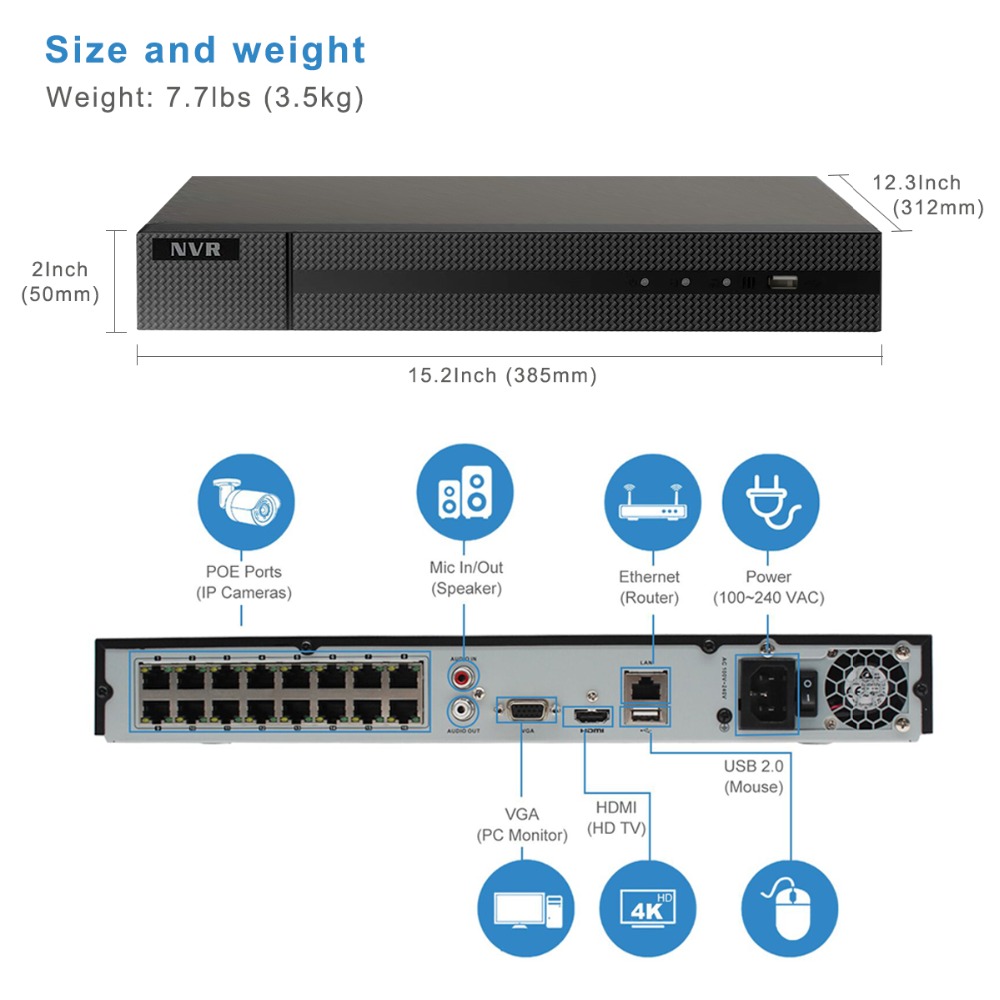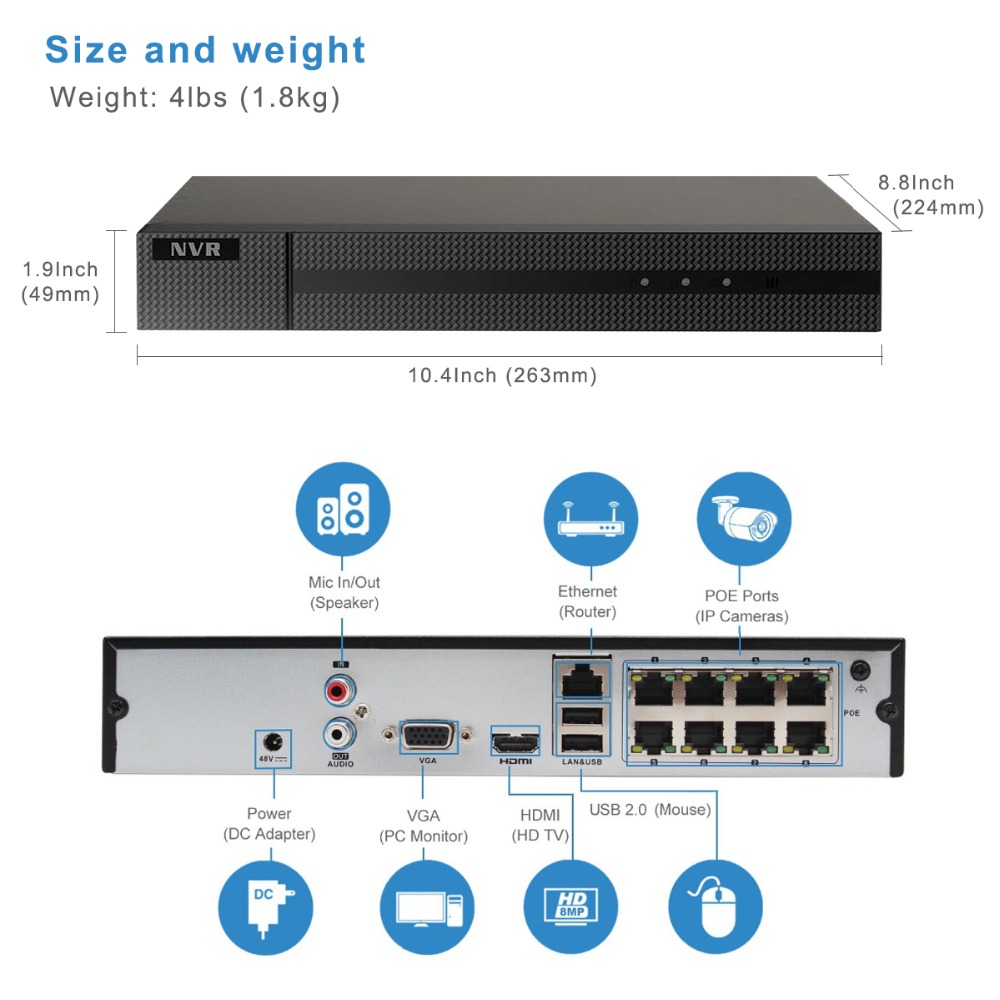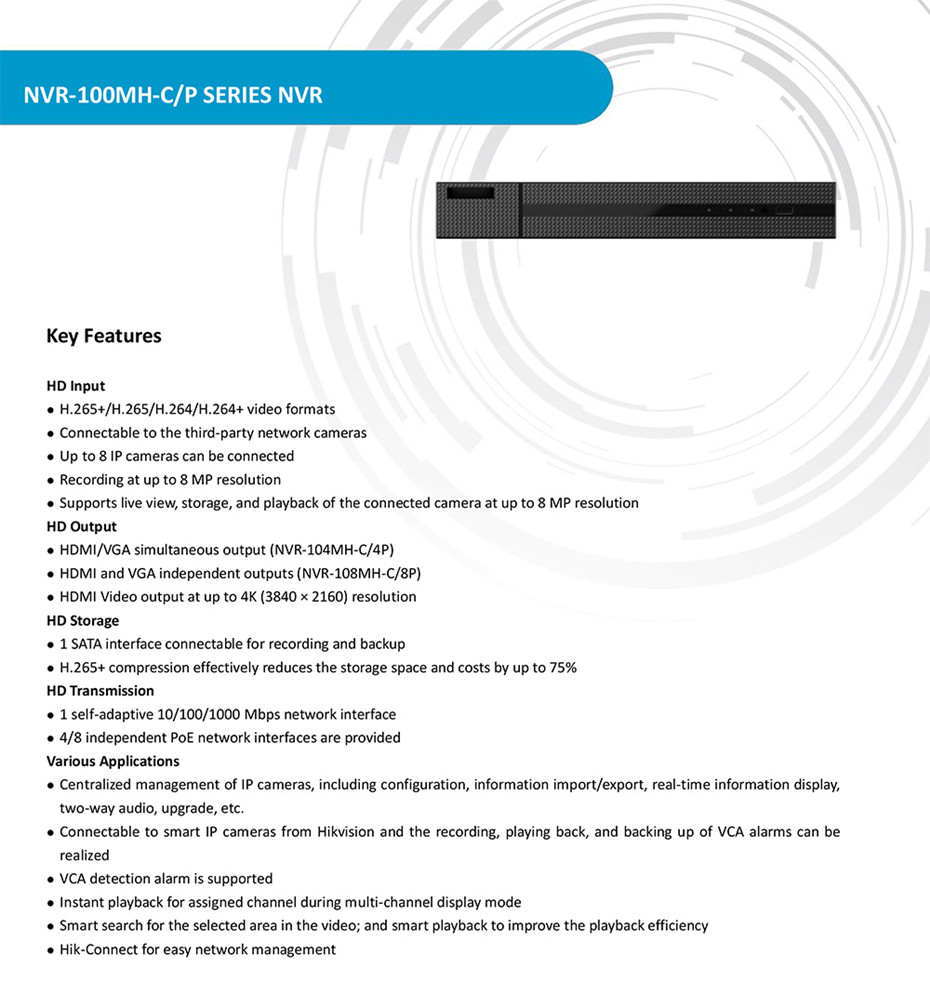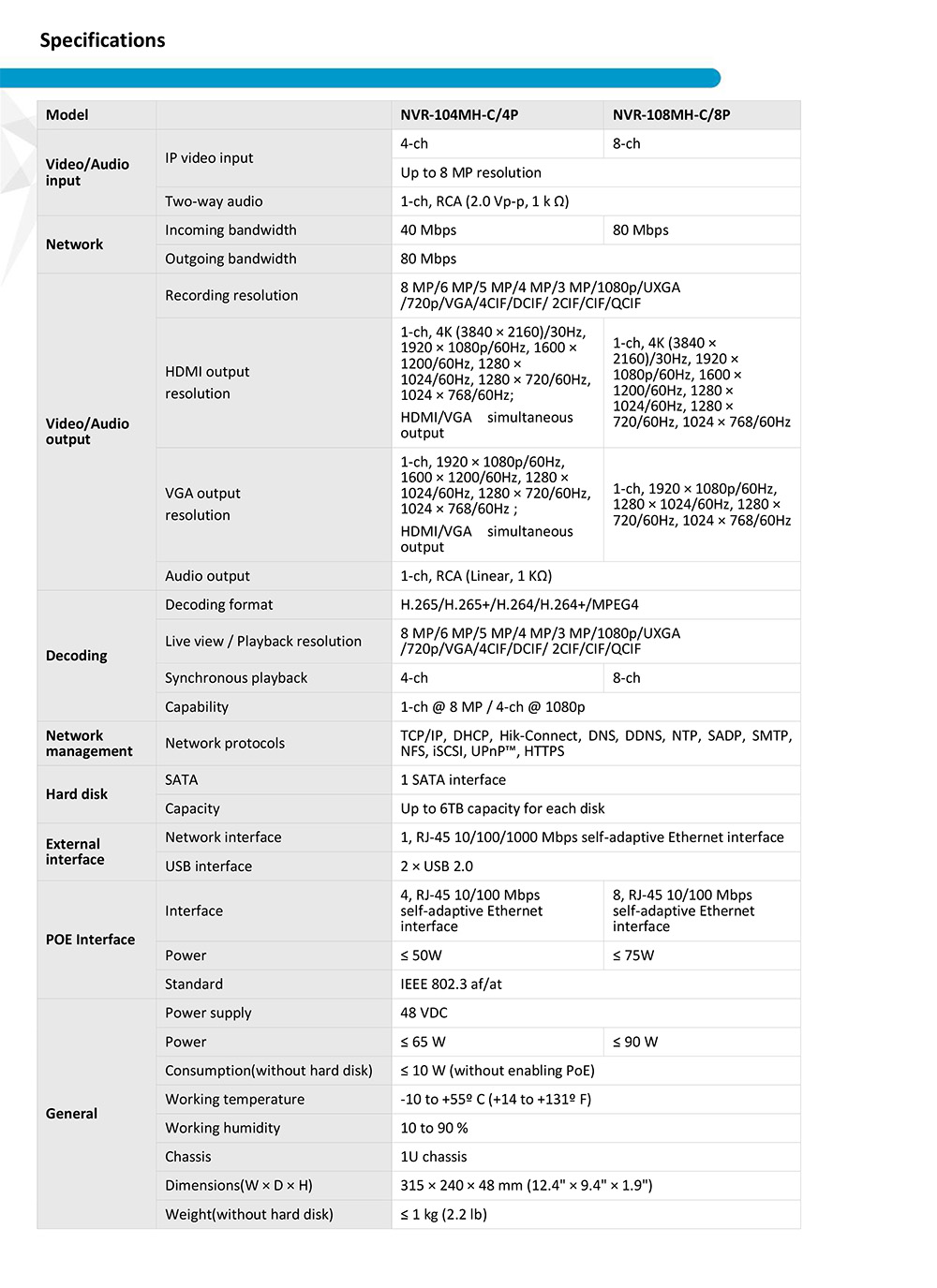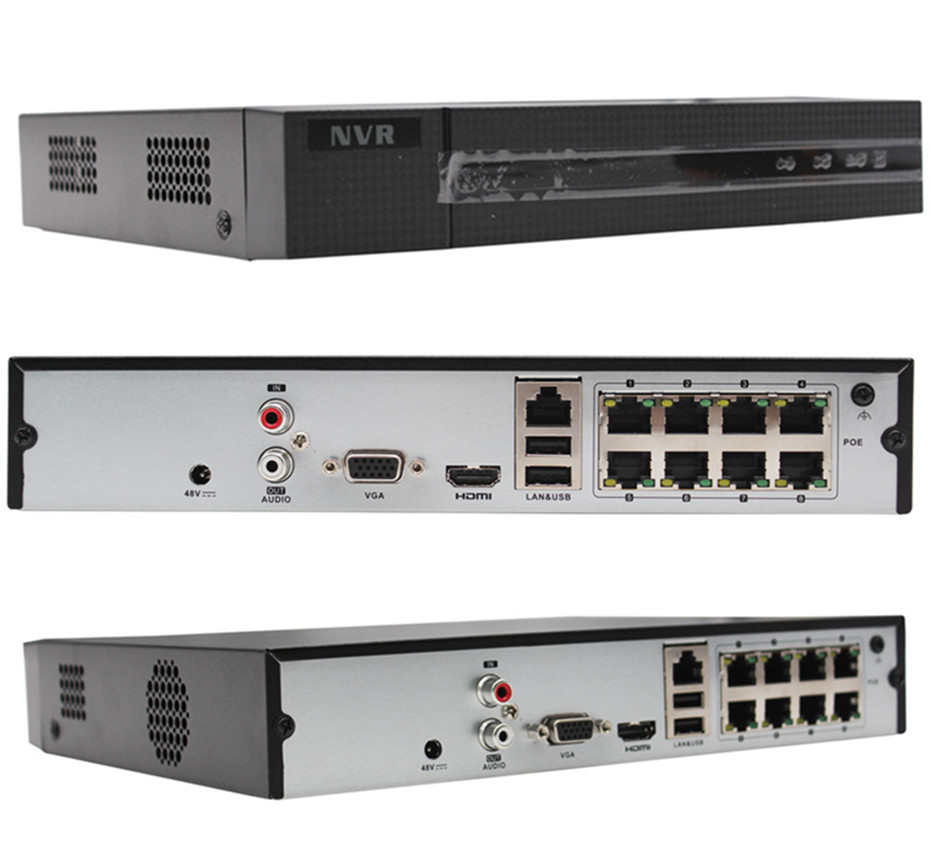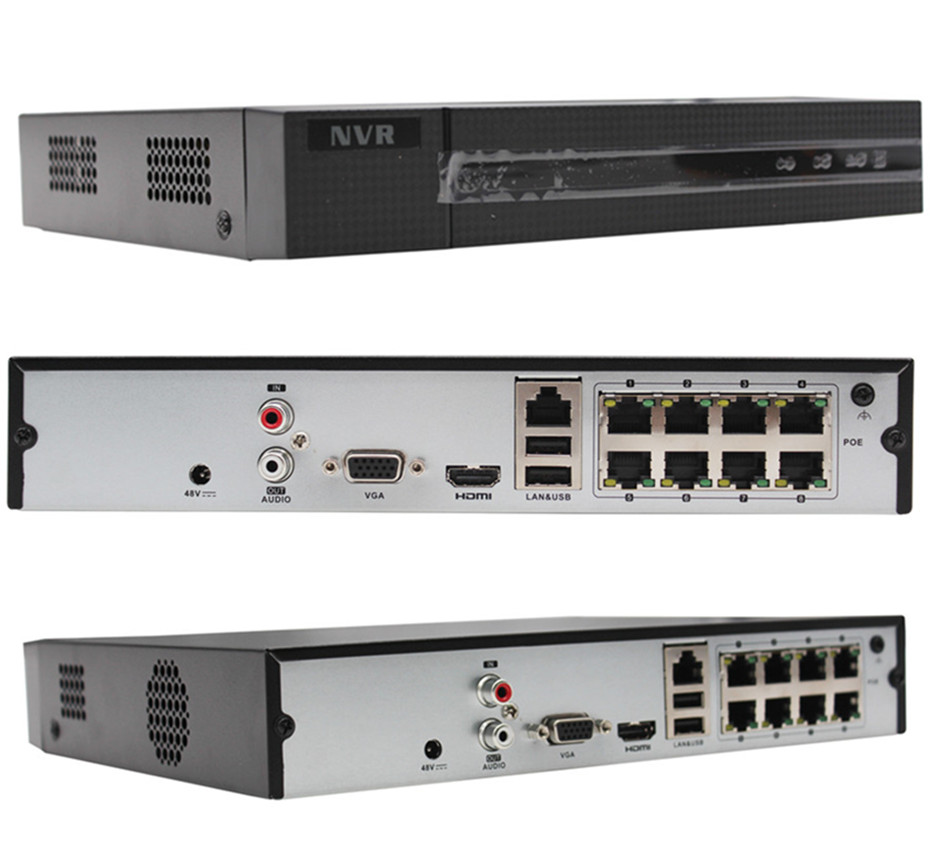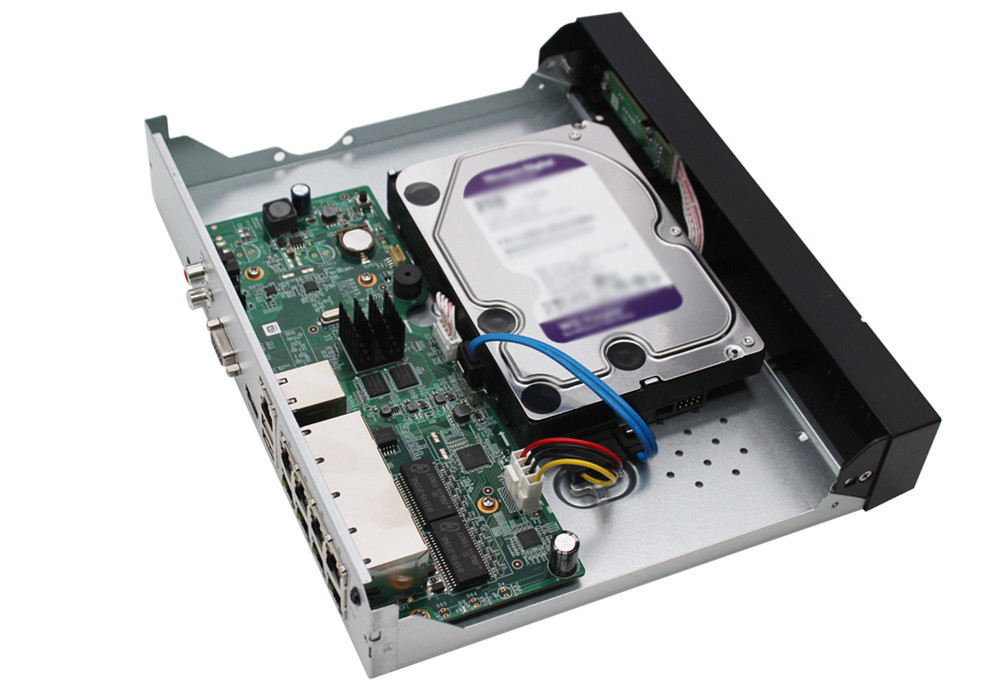 What's Included:

(1) Plug-and-Play 8-channel NVR
(1) USB mouse
(1) 110Vac power cord
(1) 6' CAT5e patch cable
(1) Set of hard drive mounting hardware
(1) Set of mount tab hardware
Hard drive not included. We recommend purchasing security-grade hard drives optimized for surveillance functions from us, which we will install at no extra cost. Customer installed components (including hard drives) may damage your NVR and result in non-warranty repair costs.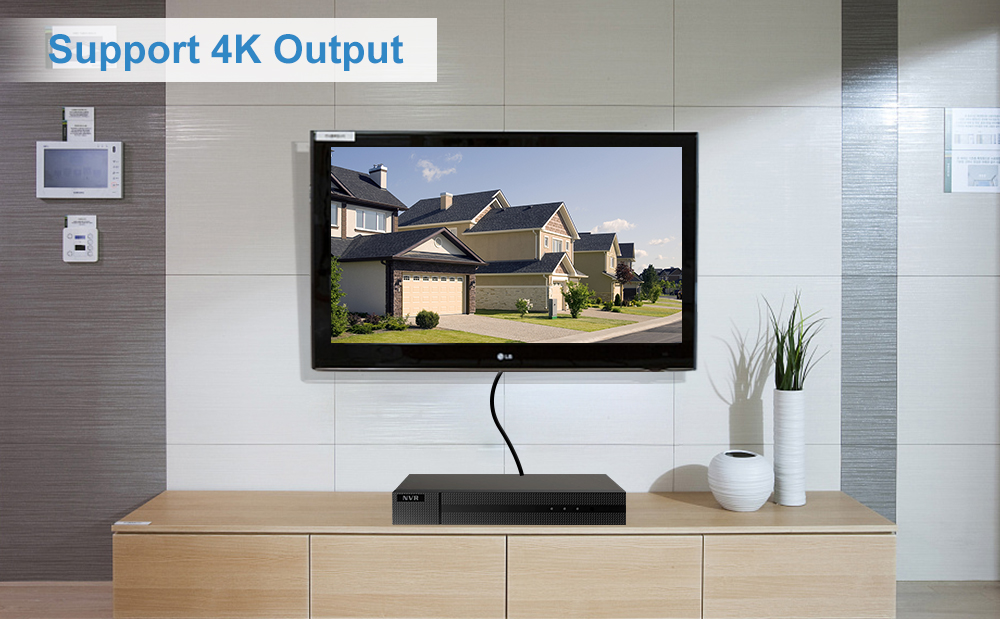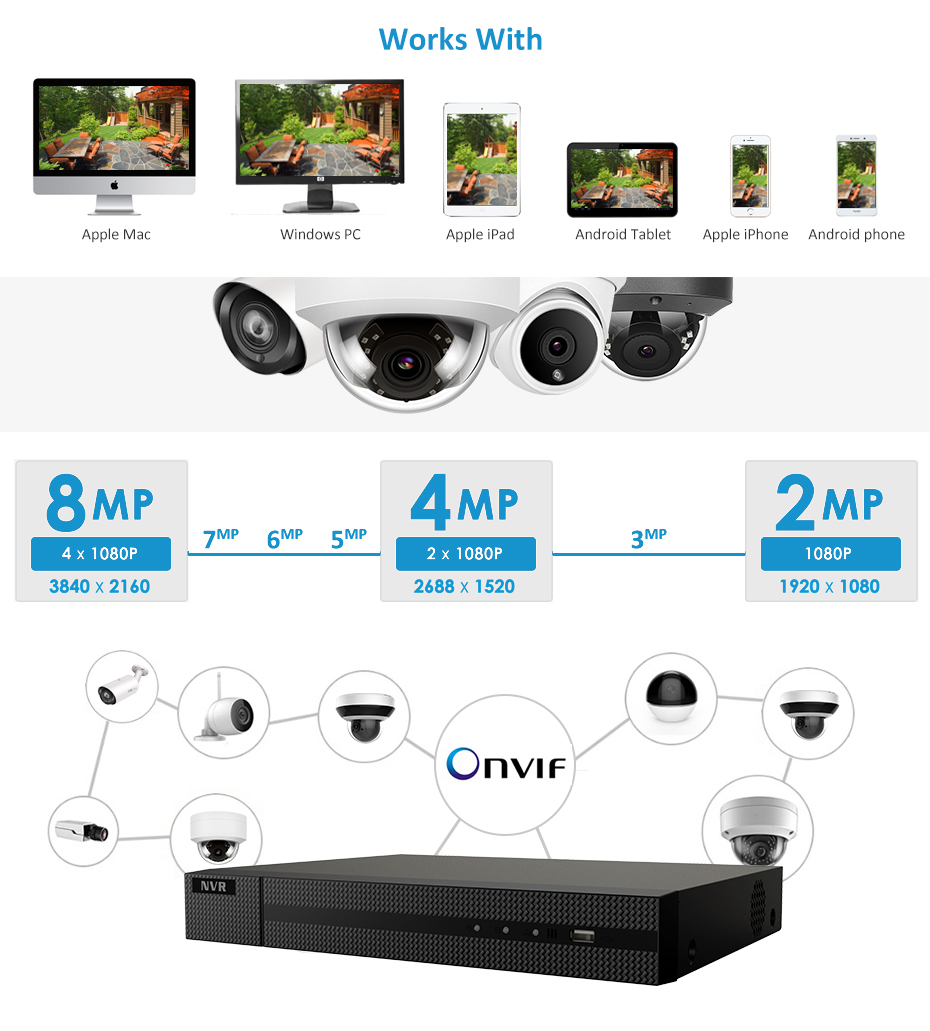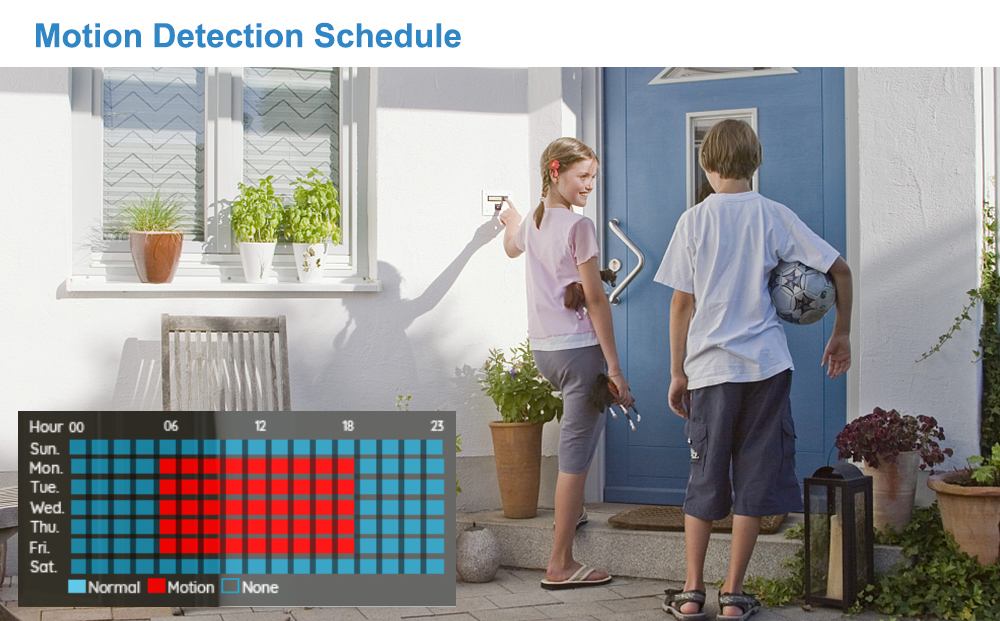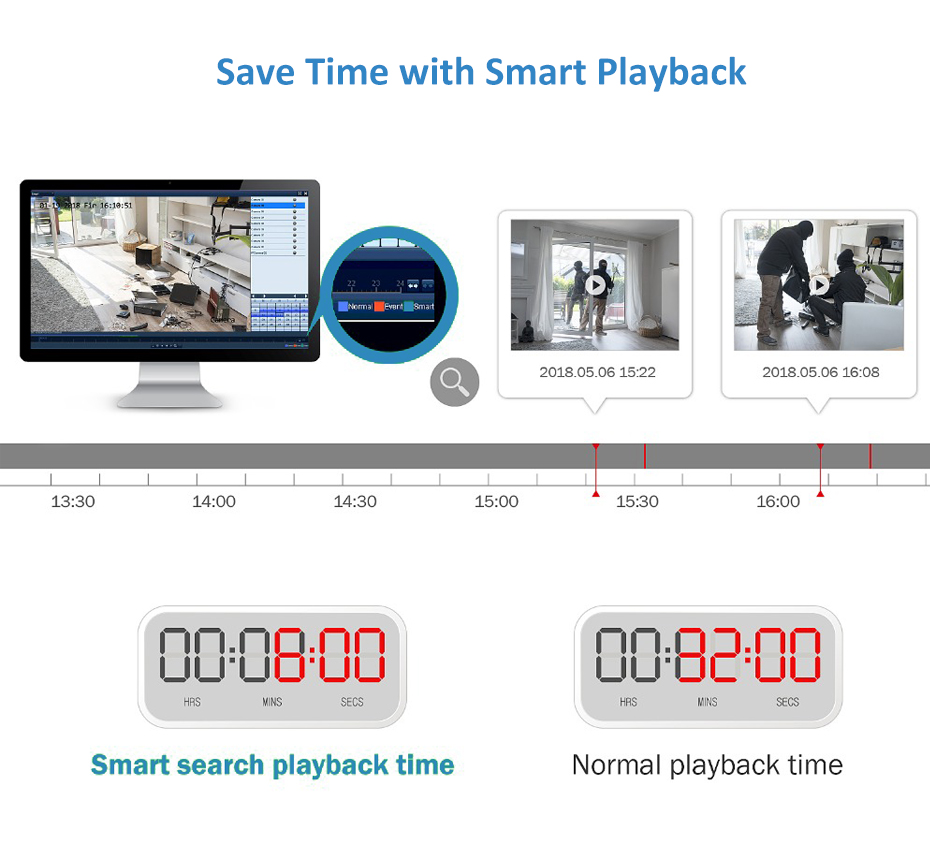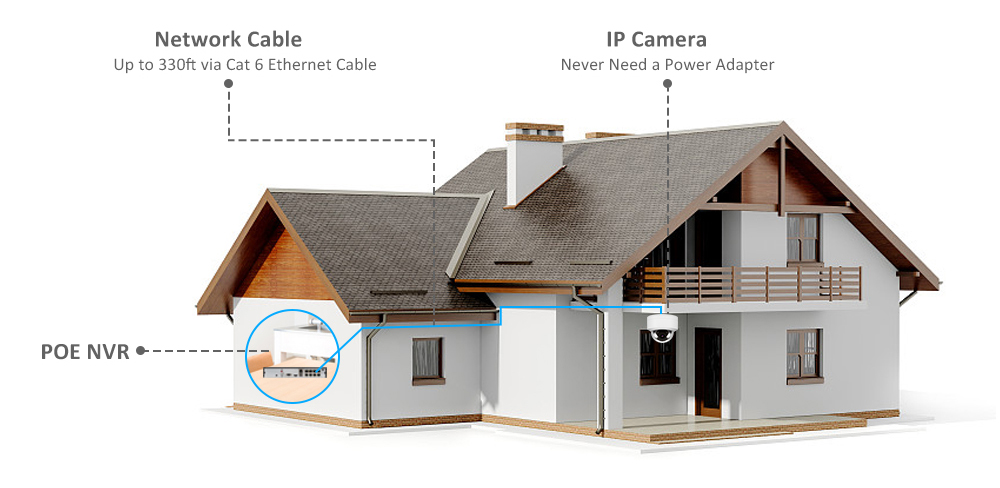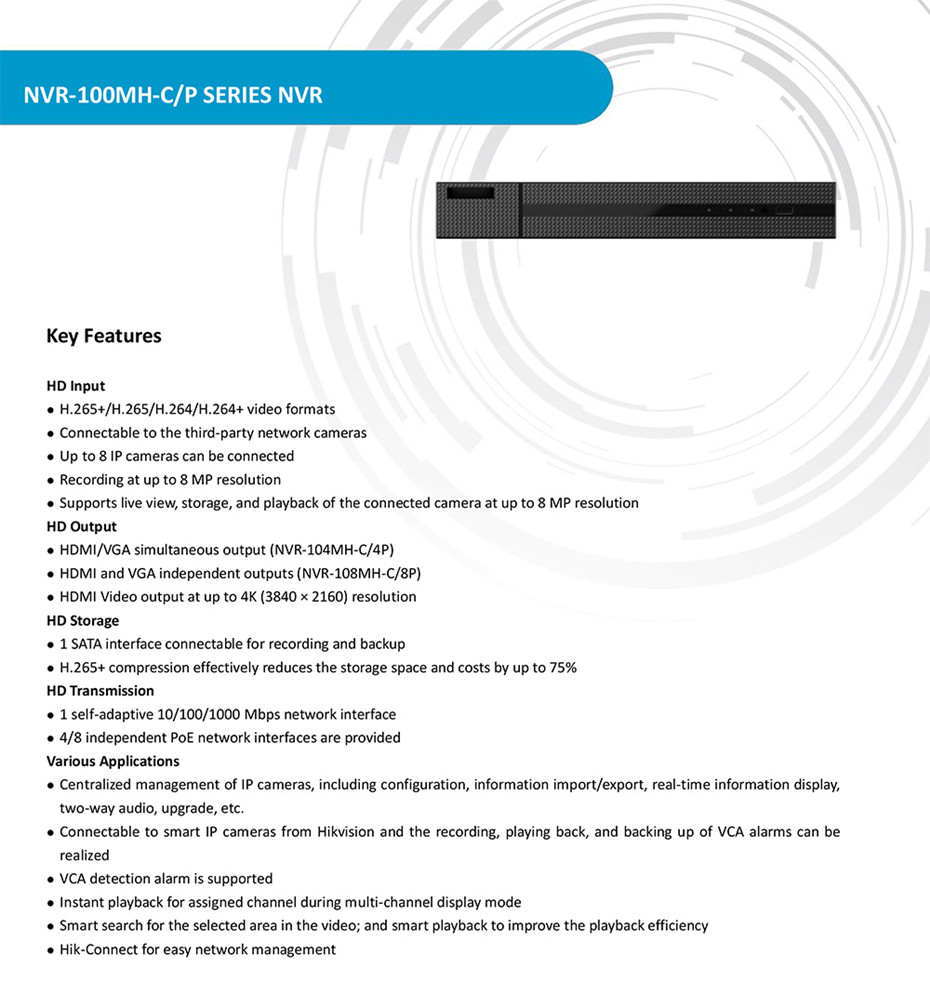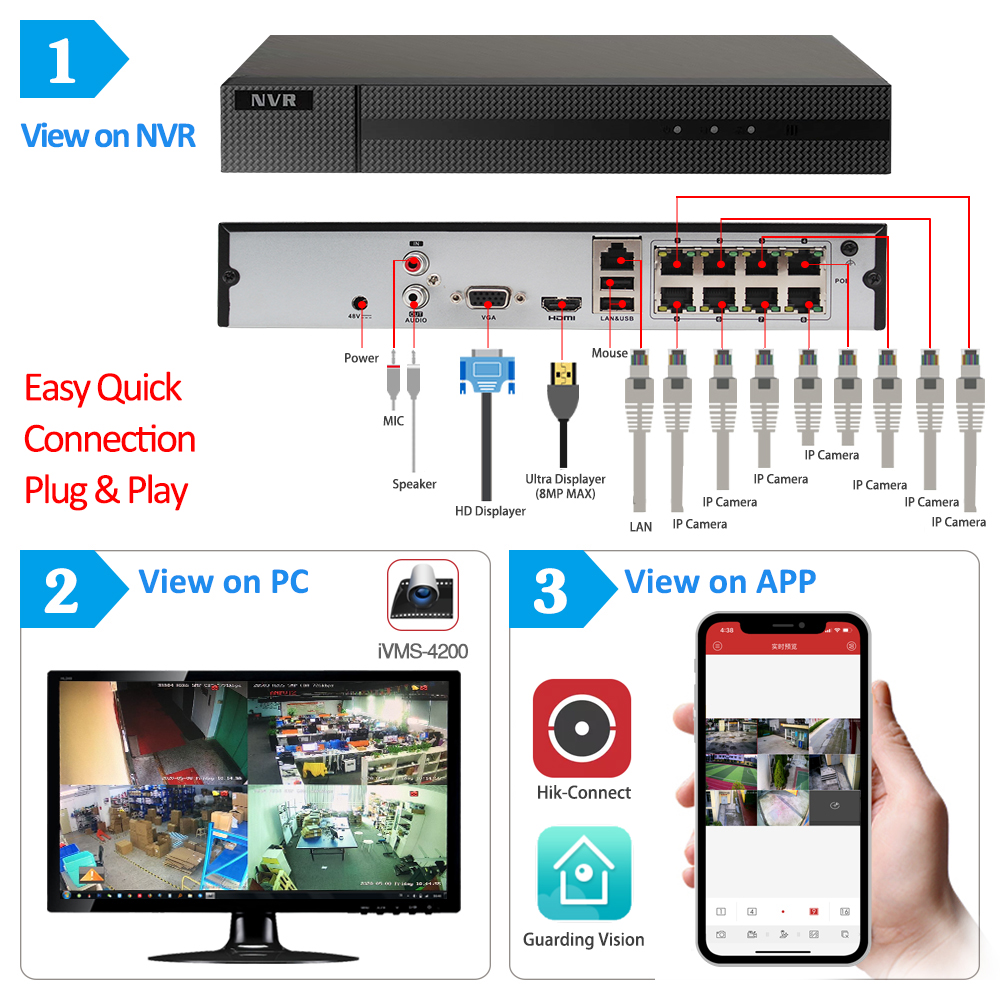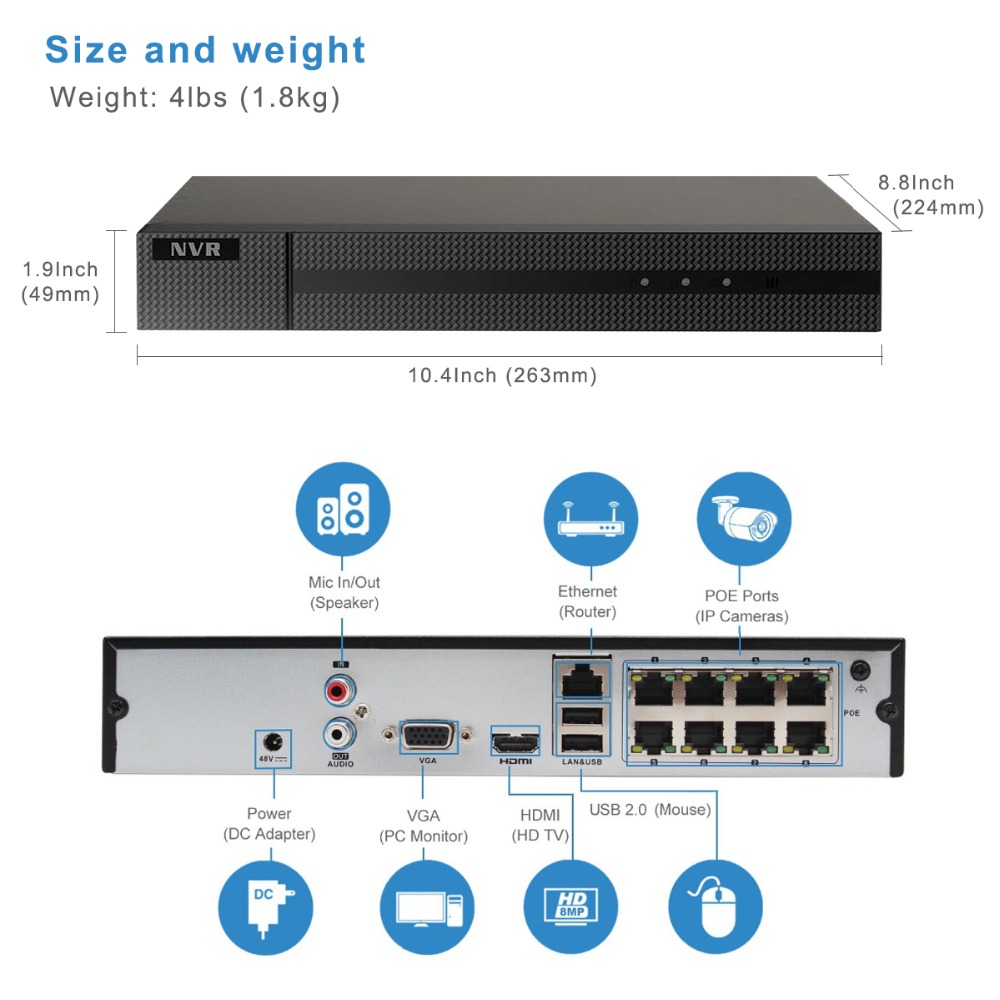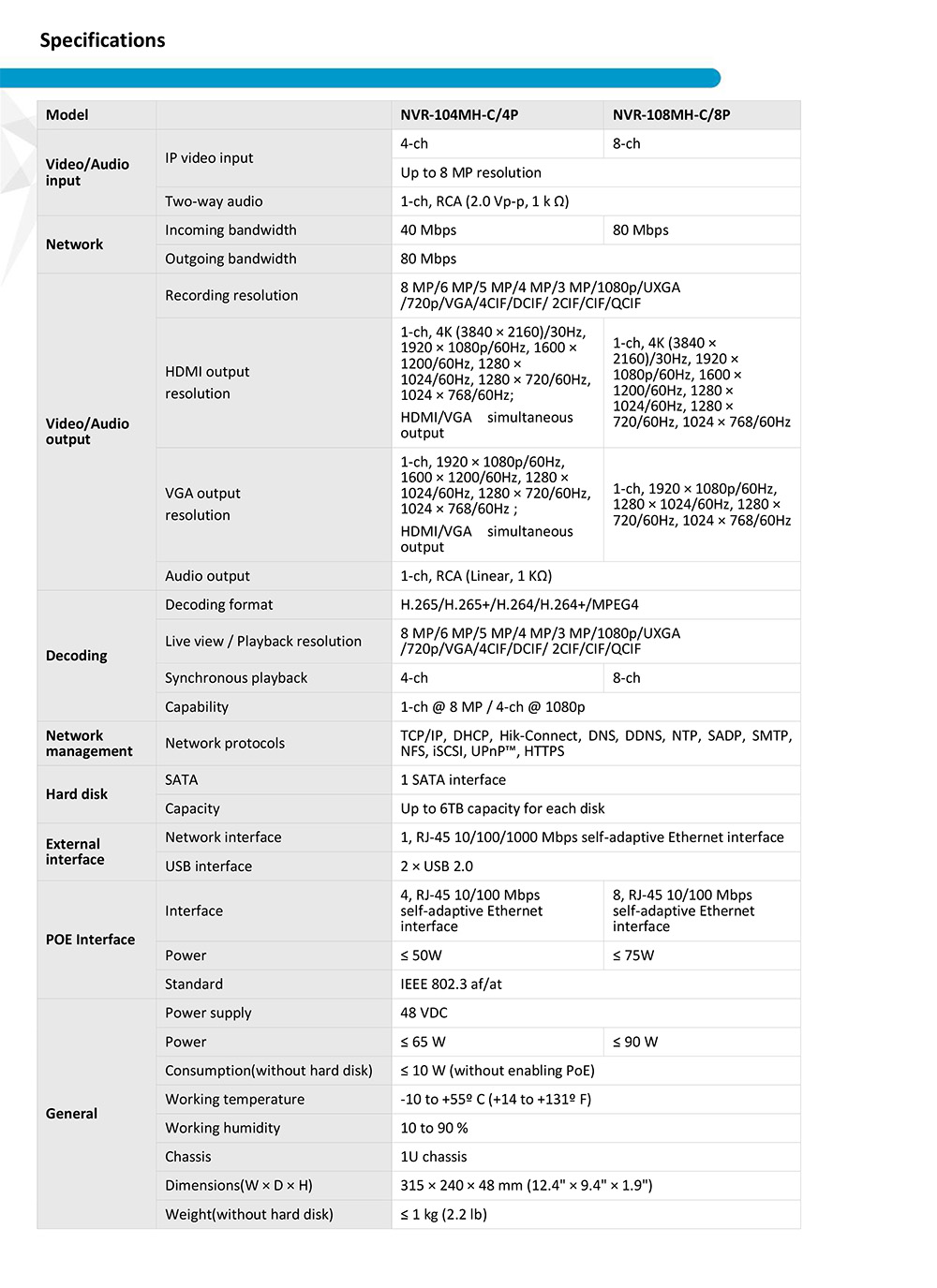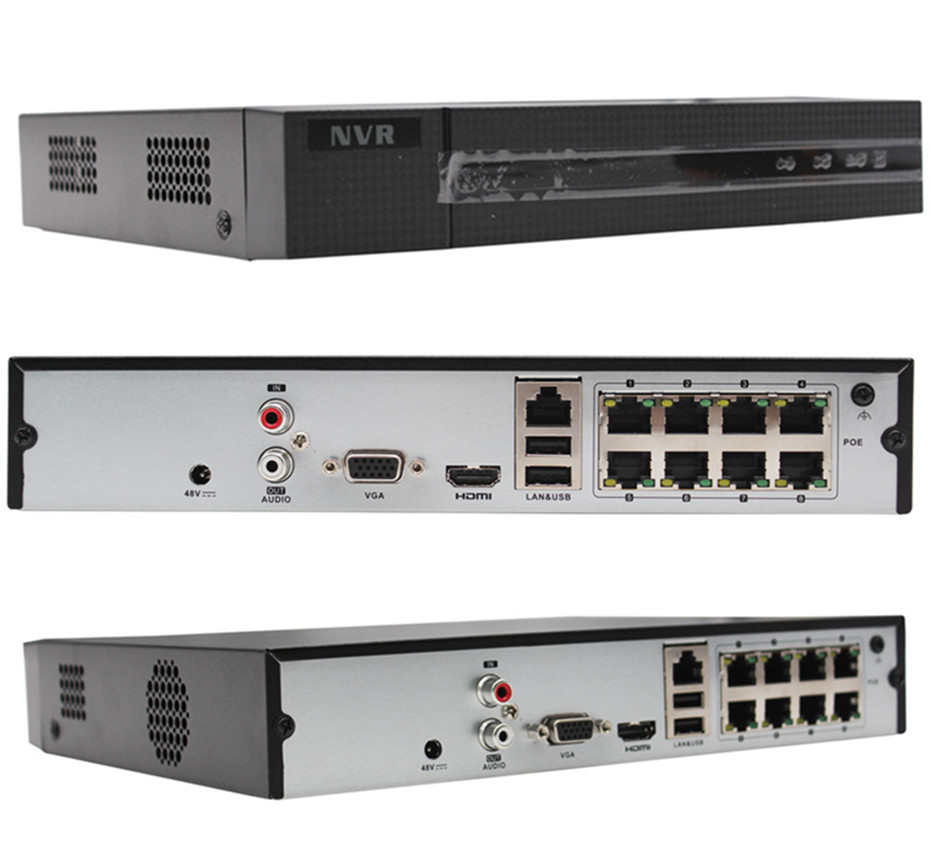 Video/Audio Input
IP video input:
8-ch
IP Video input:
Up to 8 MP resolution
Network
Incoming bandwidth:
80 Mbps
Outgoing bandwidth:
80 Mbps
Video/Audio Output
LCD/HDMI/VGA output resolution:
1920 × 1080p/60Hz, 1280 × 1024/60Hz, 1280 × 720/60Hz, 1024 × 768/60Hz
Recording Resolution:
8MP/6MP/4 MP/3 MP/1080p/UXGA /720p/VGA/4CIF/DCIF/ 2CIF/CIF/QCIF
Synchronous Playback:
8-ch
Decoding
Decoding format:
H.265+/H.265/ H.264+/H.264
Capability:
1-ch @ 4 MP / 2-ch @ 1080p
Live view / Playback:
8MP/6MP/5MP/4 MP/3 MP/1080p/UXGA /720p/VGA/4CIF/DCIF/ 2CIF/CIF/QCIF
Hard Disk
SATA:
1 SATA interface for 1 HDD
Capacity:
Up to 6TB capacity for each HDD
External Interface
Network Interface:
1RJ-45 10/100/1000Mbps self-adaptive Ethernet interface
USB Interface:
2, USB2.0
POE
Supported Standard:
AF and AT
Interface:
8 independent 10 /100 Mbps PoE Ethernet interfaces
Max. Power:
75W
General
Power Supply:
48 VDC
Power:
≤ 90 W
Consumption(without hard disk and POE):
≤ 10 W
Working Temperature:
-10 oC ~ +55 oC (+14 oF~ + 131 oF)
Working Humidity:
10 % ~ 90 %
Chassis:
1U chassis
Dimensions:
260 × 225 × 48 mm (10.2" × 8.9" × 1.9")
Weight(without HDD):
≤ 1 kg (2.2 lb)